Introduction
White heels are remarkably versatile. They seamlessly blend with a wide range of outfits, from casual to formal, making them a go-to choice for countless fashion-conscious individuals no matter if it's your summer wedding, coffee date, vacation, or any other formal event.
In the ever-evolving world of fashion, trends come and go, but some style statements manage to stand the test of time. One such iconic fashion item that has graced the runways and streets for centuries is heels. In this blog post, we'll delve into the unique significance of white heels and why they continue to hold a cherished place as a versatile fashion icon.
History & Evolution
From Persia in the 10th century, the concept of heeled footwear embarked on a journey that spanned continents. Then, the trend gradually expanded to Europe within the upper sections of their society. Throughout the Renaissance period, heels became a symbol of power, authority, and high fashion.
The high-heeled shoes became a status symbol by the end of the 17th century. During this era, heels akin to those worn today were first built. The heel region was raised by a small block whereas the toe region was lower on the ground.
However, initially, only men recognized these luxurious shoes or white heels and only the rich could afford them. In conclusion, the 20th century saw the emergence of high heels in various forms, from the chunky platform heels of the 1930s to the sleek stilettos of the 1950s. These diverse styles allowed women to express their individuality and embrace a wide range of fashion statements.
Hollywood played a pivotal role in elevating heels to the status of fashion icon. Starlets and leading ladies graced the silver screen in glamorous ensembles paired with heels of varying heights, captivating audiences worldwide. Icons such as Audrey Hepburn, Marilyn Monroe, and Elizabeth Taylor also have a fondness for these elegant heels.
Today, we continue to celebrate the enduring appeal of heels. We can look back on their rich history and appreciate how they have become more than just footwear but a symbol of timeless elegance and self-assured femininity.
Types of White Heels
Heels, being a timeless wardrobe staple, are available in different varieties, so you can find the perfect pair to match your style and needs.
Classic White Pumps

Classic pumps are one of the highly recognized timeless pieces for any woman's wardrobe. They are effortlessly worn on different occasions. They can be dressed up for a formal occasion with a cocktail dress or evening gown, or they can be dressed down for a more casual look with jeans or a skirt.

They vary in terms of heel heights. Lower heel height is ideal to choose to wear them all day long. If you're in search of pumps that truly stand out, opt for a taller heel height.

White Wedges

One of the best types of white heels to wear, wedges are also a great choice if you're looking to add a bit of glamor to your look without sacrificing comfort. They consist of a solid platform that runs the entire length of the sole, which provides more support and stability than traditional heels.

They are available in a range of styles, including simple and understated heels, white strappy heels, and white platform heels. These heels complement a range of ensembles, including shorts, jeans, skirts, and dresses.

White Stilettos
These are the epitome of glamorous and sophistication. They have thin, white high heels that are perfect for making a statement. White Stilettos suit almost every outfit from gowns, and dresses, to formal suits. They may not be the most comfortable types, but they are definitely the most eye-catching. If you're seeking heels that will grab attention, white stilettos make an excellent choice.
Choosing the Right White Heels
When it comes to pairing these heels with your outfits, a little guidance can go a long way. Whether you're planning a casual getaway or attending a formal event, their versatility makes them an excellent choice
Matching with Outfits
You can effortlessly pair these with your casual outfits. Combine with well-groomed jeans and a timeless white tee for a polished look. You can also try them with a flowy floral dress, creating a contrast that exudes both femininity and sophistication.
When wearing a tailored suit or a crisp white blouse with a skirt, these heels can provide a stylish finishing touch.
Embrace the power of monochromatic dressing by combining your white heels with outfits in varying shades of white or cream.
Whether it's a vibrant cocktail dress or a patterned skirt, the simplicity of these heels can balance out the boldness of your attire, allowing it to take center stage.
Sizing and Fit
Firstly, you need to check your feet's length and width to choose the right sizing of your heels. Since size charts are slightly different for every brand, we recommend you consider the brand-specific sizing charts as well.
Always consider the toe box. The toe box, the front part of the shoe, should provide adequate space for your toes to move comfortably.
When selecting the heel height, think about how comfortable you are and what you like to wear. While some may prefer stilettos, others may find a block heel or wedge more stable and easier to walk in.
Look for white heels that offer adjustable straps or buckles to help achieve a customized fit.
Material Matters
Genuine leather is a timeless choice for any pair of heels, including white ones. It's durable, flexible, and breathable, so you can wear it all day long.
Opt for suede heels if you want more textured style.
Heels crafted from fabric materials, such as canvas or mesh, can offer a lighter and more breathable option for warmer weather. These materials often provide more flexibility and casual charm to your outfits, making them ideal choices for relaxed events or everyday wear.
Why White Heels
From runway shows to street style, these elegant footwear pieces have made a resounding comeback, proving to be a versatile addition to any woman's shoe collection.
Their clean and minimalist aesthetic grants them an air of effortless chic-ness, making them a favorite among fashion-forward individuals. The pristine white color of these pumps adds a touch of gracefulness, enhancing the overall appearance of the wearer.
Their ability to seamlessly blend with a vast array of color palettes and clothing styles makes them a reliable option for both casual and formal looks.
Pairing them with jeans and a stylish blouse instantly creates a chic casual look suitable for brunch dates, shopping trips, or meeting friends for coffee. With their potential to symbolize purity and elegance, these white heels become an ideal option for weddings, galas, and cocktail parties.
From monochromatic outfits to vibrant patterns, you can enhance and balance various hues, creating a visually appealing and harmonious look. Their versatility in color combination ensures that they can be paired with both neutral or bold-colored garments, allowing for endless styling possibilities.
Whether it's summer, spring, fall, or winter, they can effortlessly adapt to each season's fashion requirements. These heels have transcended fashion trends throughout history. Iconic figures such as Audrey Hepburn and Marilyn Monroe often donned white heels, cementing their status as timeless accessories.
Styling White Heels for Women
Casual Chic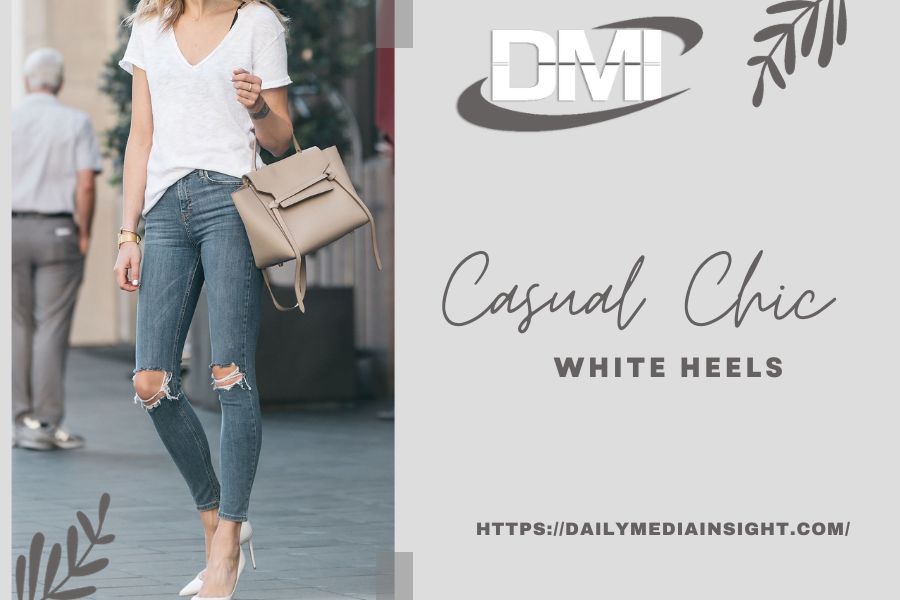 You can start with a classic combination of your favorite jeans and a plain white T-shirt. Ensure your jeans are the right length. Skinny jeans or ankle-length styles work well as they allow your heels to shine. Accessories are a great way to add a touch of glamour to your outfit. Think statement necklaces, statement bracelets, or a statement belt.
Elegant Evenings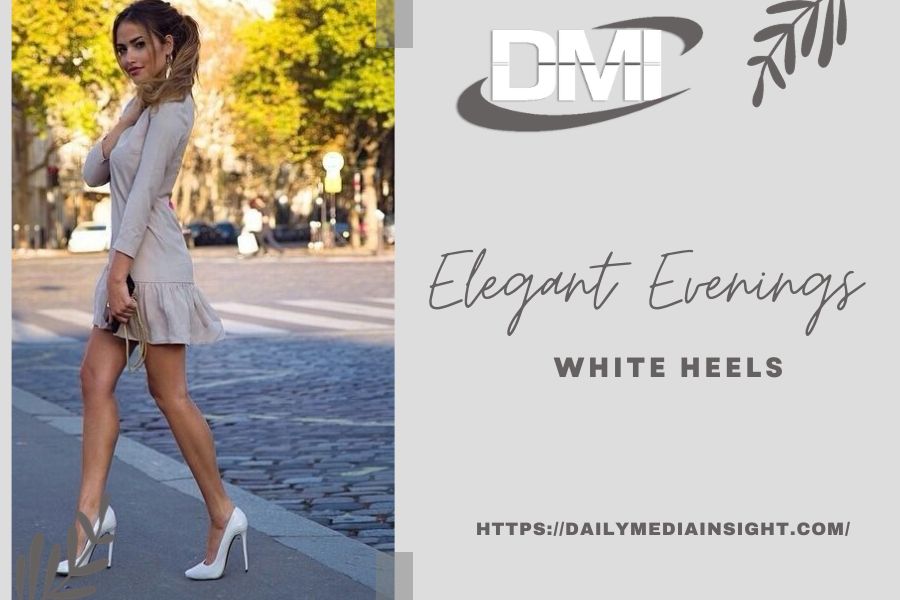 Opt for a formal dress in a complementary color, neutral tones like black, navy, or pastels often pair well. Enjoy pairing them with elegant studs, hoops, or drop earrings. Consider the neckline of your dress while choosing earrings.
While a delicate pendant necklace or a statement piece can both be suitable choices, it's essential to avoid overwhelming your look with excessive bling. On the other hand, a sleek, structured box clutch in a matching or contrasting color can be a chic choice.
White heels for work
You need to avoid overlaying casual items like distressed jeans or t-shirts with these heels. Office apt pieces like tailored trousers, pencil skirts, and blouses in neutral colors can work. White block heels or closed-toe pumps are among the ideal choices for your office premises.
Select the height of your heel that you feel comfortable walking on during the day, usually 2 to 3 inches. For instance, you can chase a monochrome look with a white shirt or white blouse.
Occasion-based styling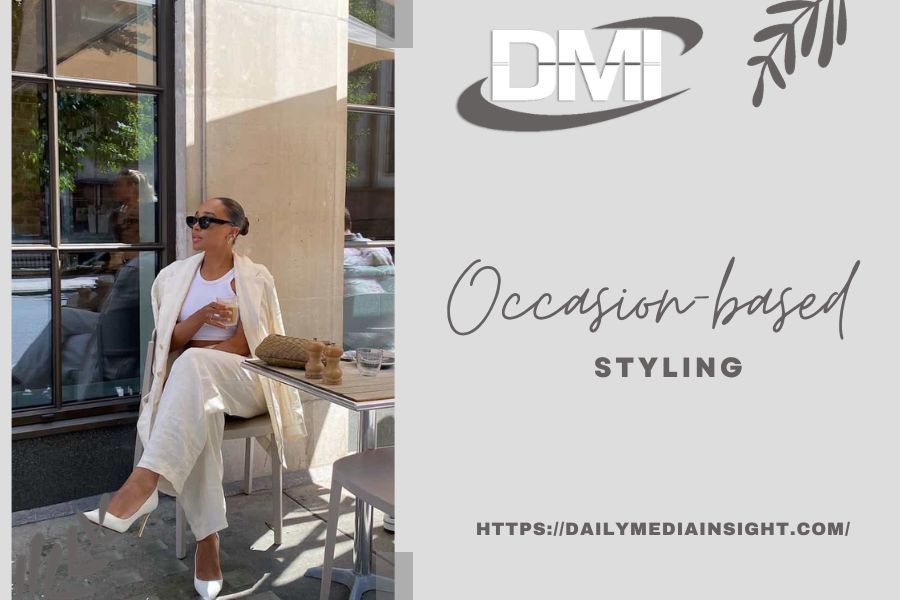 For casual outings like coffee dates, wedding events, or brunch shopping events, you can simply pair them with casual tops and jeans for a relaxed look. Try to keep your accessories less complicated with just stud earrings and a crossbody bag for convenience.
Let's say you're up for a beach vacation! Generally, heels are the ultimate chic at the beach. Try pairing them with a flowy, beachy maxi dress or a high-low skirt. For beach-inspired accessories, you can go with things like straw beach tote or seashell jewelry.
White Heels vs. Black Heels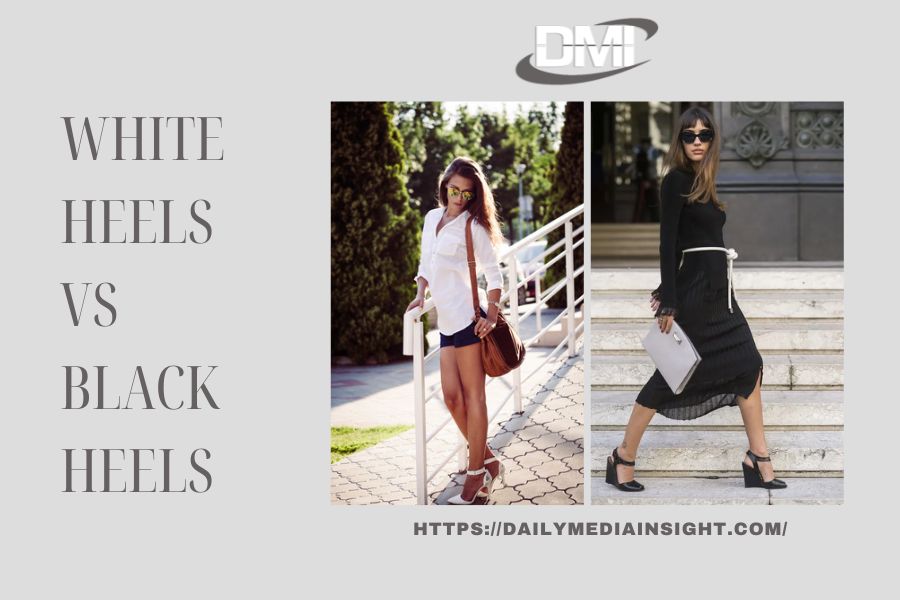 Each hue carries its own charm and allure, attracting fashion enthusiasts from all over the world. By understanding the unique appeal of white and black heels, you can effortlessly elevate your style game.
White radiates a sense of purity and innocence, evoking feelings of grace and elegance whereas black heels have been long regarded as a symbol of sophistication and mystery.
The soft, delicate nature of white enhances femininity, bringing an effortlessly sophisticated touch to any ensemble. On the other hand, black heels possess a unique ability to create the illusion of longer, slimmer legs.
To make the most out of your white and black heels, it's essential to pair them according to the occasion. Here are some suggestions:
If you're attending a black-tie event, a gala, or a company event, black heels are the way to go. Wear them with a classic little black dress, a tailored pantsuit, or an elegant evening gown for a polished and refined look.
This way, you can add a pop of color with a vibrant top, or keep it simple with a monochromatic ensemble. Alternatively, black heels make a powerful statement in a professional environment, exuding confidence and authority.
White Heels Care & Maintenance
To maintain the pristine look of your heels, periodic cleaning is essential. Here are some of the best cleaning products and cleaning tips to keep in mind:

Begin by gently brushing away any excess dirt or grime with a soft bristled brush or a clean, slightly moist cloth. Brush towards the grain so that you do not damage the material.

To create a paste for scratches or marks, combine baking soda and water until a paste forms. Take a soft cloth and apply it to the affected area. Remove any remaining residue with a damp cloth, and let the heels air dry.

As an alternative, consider using a specialized white shoe cleaner that is specifically formulated to remove tough stains while preserving the integrity of the material. These cleaners often contain powerful yet gentle ingredients, such as hydrogen peroxide, that can effectively tackle even the most stubborn stains.
Pro tip: Always spot-test your white heels before using any cleaning product. This way, you can be sure that the product won't stain or damage your heels.
Proper Storage Techniques
Before storing your heels, make sure to give them a good clean. Dirt or discoloration can build up over time and make it harder to remove.

You can use shoe inserts or heel inserts to maintain their shape. Consider using shoe storage bags or individual cloth shoe covers to protect your heels from dust and potential color transfer.
Pro tip: Keep your heels in an original shoebox or invest in clear plastic shoe bins to easily identify and protect them from external elements. 
Protective measures for rainy days
Apply a water and stain-repellent spray specifically designed for white shoes, ensuring that it is suitable for the material of your heels. 

Consider using rain shoe covers made of waterproof materials to shield your white heels from rain, mud, and other environmental factors.

If your heels get wet in the rainy season or even in general, let them air dry naturally. Avoid using direct heat sources, such as hairdryers, as they can lead to material cracking or shrinking.

Once thoroughly dry, gently brush any remaining dirt or residue from the surface, employing a soft-bristled brush.
Conclusion
White heels are more than just shoes; they are a symbol of confidence, elegance, and the promise of endless fashion possibilities. So, whether you're strutting down the aisle, conquering the city streets, or simply adding a touch of glamour to your everyday look, let your white shoes be your trusted companion on your journey to sartorial excellence in 2024 and beyond.
In this exploration of heels, we have delved into a plethora of ideas, from classic stilettos to white chunky heels, from bridal elegance to casual chic. Each pair represents a unique canvas upon which you can express your individuality, whether you opt for a minimalist statement or a bold fashion-forward choice.
FAQs
Q.1 Are white heels suitable for all seasons?
Yes, they're versatile. That's why they're a wardrobe must-have. With some proper maintenance, they can endure throughout the entire year.
Q.2 Can white-colored heels be worn casually?
As a matter of fact, they're one of the best ways to add a little bit of elegance to any casual look. With the right outfit choices and a dash of creativity, they can easily become a stylish staple in your casual wardrobe.
Q.3 Can I wear white heels to a job interview?
It's always a good idea to seek advice from trusted colleagues or mentors in your industry if you're uncertain about your footwear choice for a job interview.
If you're confident that this color aligns with the company culture and your overall professional image, and you feel comfortable and polished wearing them, they can be a unique and stylish choice.
Meet The Writer
Erick Miller is the creative mind behind Daily Media Insight, a dynamic and thought-provoking blogging platform. With an insatiable passion for storytelling and an eagle-eyed perspective on the ever-evolving media landscape, Erick is a dedicated writer and content creator who thrives in the digital realm. His insightful articles and engaging narratives encompass a wide range of topics, from the latest trends in technology to the intricacies of digital marketing.