Introduction
Do you aspire to attract attention and demonstrate confidence at all times? Look no further because we have just the guide you need to unlock your style potential and create irresistibly cute outfits!
Your fashion choices are an expression of who you are. It's time to tap into your inner style guru and uncover what truly resonates with you. Understanding your body type and proportions is the secret ingredient to creating outfits that flatter your figure effortlessly. 
We'll also take a journey through time, exploring the iconic looks of fashion legends who have made their mark in the industry. Whether you're a fashion enthusiast or a style novice, this ultimate guide will empower you to unlock your true potential and become a trendsetter in your own right. 
Understanding Your Style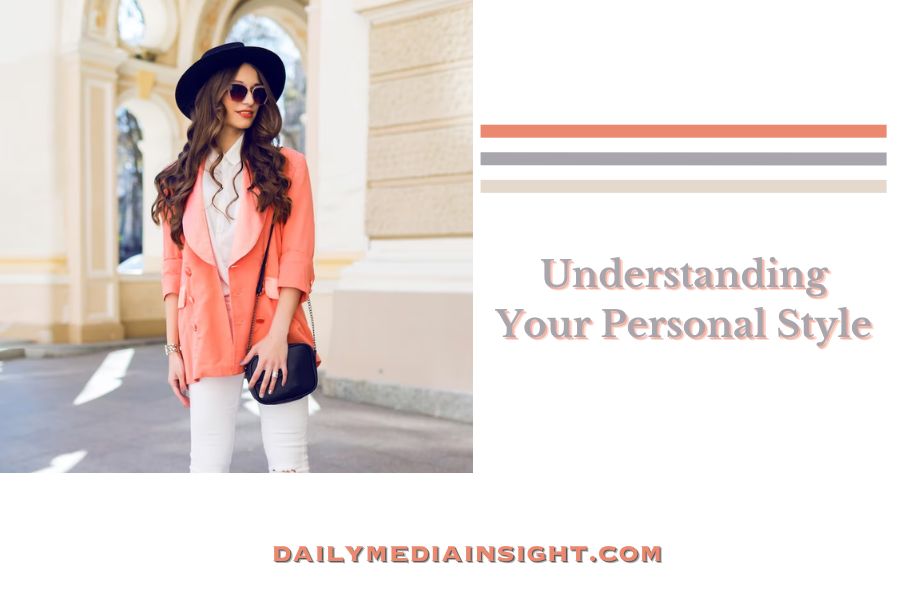 #1. Discovering Your Style Preferences
What do you prefer? Or, what type of clothing do you find the most comfortable within the cute outfits? If you haven't had your style guide yet, we encourage you to develop a great sense of your style. 
Simply begin by considering your likes and dislikes. So, make a visual reference to how something works for you before going with any fashion inspiration. It's because not everything suits your style TBH even though it's cute. 
 #2. Analyzing Body Type And Proportions
Every body type is different, and thus your preferences. However, the right pieces of clothing flaunt every body type with any proportion. So, you need to analyze what type of clothing goes best with your body type.
Discover the styles, shapes, and fabrics that will feel most flattering on your particular body type. Take note of the areas you love about your body and want to accentuate by wearing cute outfits. For instance, belts or fitting designs can draw attention to your defined waist if you have one.
Then, you can experiment with different clothing lengths, cuts, and styles to create balance and proportion in your outfit. Alternatively, if you possess a short torso, choose high-waisted bottoms to elongate your legs.
 #3. Finding Inspiration From Fashion Icons
Finding inspiration from fashion icons is a fantastic way to infuse your outfits with creativity and individuality. 
Look for individuals who have left a lasting impact on the fashion world, such as Audrey Hepburn, Coco Chanel, David Bowie, or Rihanna. Study their iconic looks, signature pieces, and overall fashion philosophy.
 While it's important to draw inspiration, remember to adapt the looks to suit your personal preferences.
Essential Wardrobe Staples for Cute Outfits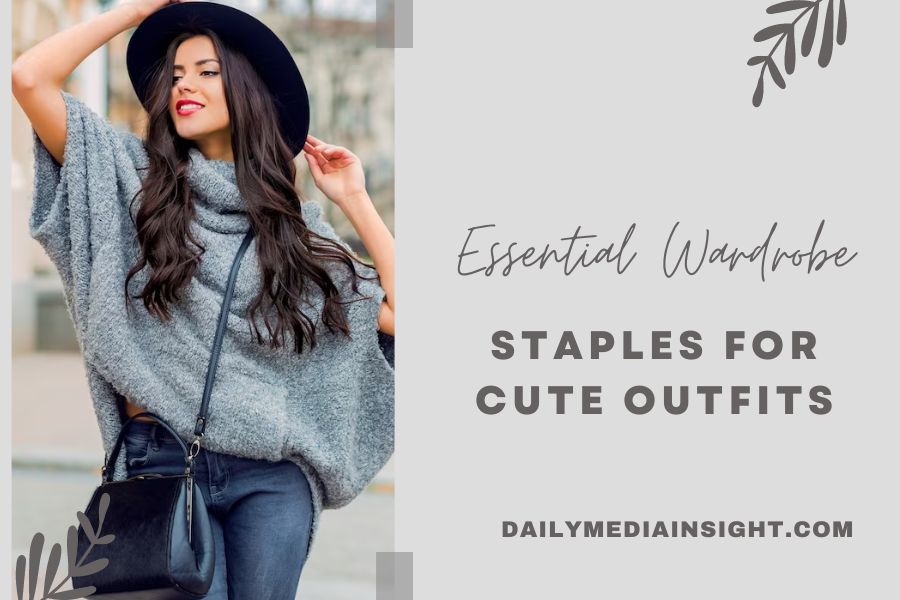 #1. Building A Versatile Closet
A versatile closet provides endless mix-and-match possibilities. By investing in staple pieces like solid-colored tops, well-fitted jeans, and classic outerwear, you can easily create a multitude of outfit combinations.
Building a versatile closet is crucial for creating something adaptable, timeless, and budget-friendly. It empowers you to mix and match, effortlessly transition between occasions, and express your style with ease.
All in all, consider investing in versatile pieces for your ultimate freedom. 
 #2. Must-Have Tops For Cute Outfits
Puff sleeve tops:

Puff sleeve tops are a fun and feminine way to add some personality to your outfit. They complement both casual and fancy clothing beautifully.

Ruffled tops:

Ruffled tops are another great way to add girly flair to your outfit. According to the situation, they can choose formal or casual clothing.

Tank tops:

Tank tops are a great way to add cool and casual vibes to your outfit. Depending on the occasion, they can wear dressier or more casual attire.
 #3. Bottoms That Complement Any Look
Skirts:

Skirts are a fantastic way to make your clothing more feminine. You can pick one that fits your form because they exist in all different shapes and sizes.

Pants:

Pants are a more casual option, but they can still be dressed up with the right top and accessories.

Tights:

Tights are a type of bottom that is typically made of nylon or other synthetic material. They are often worn for exercise or as casual wear to elevate your cute outfits.
 #4. Accessory Essentials For Adding Flair
Scarves:

They can be knotted around the waist, draped around the neck, used as a headband, and many other things.
Bags:

Bags are a practical and stylish accessory that can be used to carry everything you need throughout the day. 

Belts:

Belts can slim your waist and add shine to your ensemble.
Mixing and Matching: Creating Cute Outfits Combinations
 #1. The Art Of Color Coordination
On the color wheel, complementary colors are those that are directly opposite one another, such as blue and orange or red and green. Pairing complementary colors can create a vibrant and striking look. 
For example, a navy blue top with orange accessories can make a cute and eye-catching combination. You can go for monochromatic outfits for a stylish and classy look.
Color blocking is another way to empower your color coordination. For example, a royal blue top paired with bright yellow pants can result in a fun and vibrant color-blocked outfit.
Pay attention to the intensity, undertones, and overall balance of the colors you choose.
#2. Layering Techniques For Added Style
You can try layering a longer cardigan over a shorter top or pairing a cropped jacket with a flowing dress. The contrast in length adds depth and creates a visually appealing silhouette.
Layering allows you to experiment with proportions and create unique and eye-catching combinations for cute outfits. For instance, you can try pairing oversized pieces with more fitted items, such as a loose blouse with slim-fitting jeans or a long tunic with leggings. 
To simplify things around, begin with a solid foundation of basic pieces such as tank tops, camisoles, and leggings. These versatile basics can be layered with various items, allowing for endless outfit combinations.
#3. Playing With Patterns And Prints
Choose one statement print or pattern to serve as the focal point of your outfit. This could be a bold floral dress, a vibrant geometric blouse, or a playful polka dot skirt. 
When blending prints, pay close attention to color coordination. Look for standard colors or hues that tie the prints together. For instance, stripes with animal prints, plaid with polka dots, or floral checks can create unexpected and visually striking outfits. 
To balance the boldness of prints, consider layering them with solid-colored pieces. To create a striking contrast, wear a printed blouse with a solid cardigan or blazer. Combining Textures For Visual Interest
There are many different ways to combine textures in your cute outfits. You can mix smooth and rough fabrics, soft and hard materials, or light and heavy weights. You can also use various patterns and prints to design a unique and eye-catching look.
Dressing For Different Occasions
A. Casual and Everyday Cute Outfits
Let's find some replicable goodness in the casual outfits of celebrities themselves! They run errands and get comfy in their oversized tee, and yoga pants, or spend walking downtown in designer jumpsuits. 
Without any further ado, let's list our favorites in casual outfits below.
Leggings and tunic:

This is a cozy and chic choice that is ideal for doing chores or just relaxing at home. Choose comfortable and flattering leggings, and pair them with a tunic long enough to cover your bum. For added warmth, you might also wear a cardigan or jacket.

Overalls:

A fashionable and enjoyable alternative, dungarees can be worn up or down. For a comfortable look, pair dungarees with a tee or tank top. For a more dressed-up look, try overalls with a blouse or sweater. To complete your look, add extras including a scarf, jewelry, or a hat.

Sundress and sandals:

This is a breezy and effortless outfit that is perfect for a summer day. Choose a sundress in a light fabric and pattern, and pair it with your favorite pair of sandals or slides to accentuate your cute outfits. You can also add a hat or sunglasses to protect yourself from the sun.
B. Dressing Up For Formal Events
A-line dress with heels:

Choose a dress in a flattering color and style, and pair it with your favorite pair of heels. 

Fitted cute skirt outfits with top:

It's another elegant outfit idea that you can pair with a top of contrasting color combination. Depending on the event's formality, you can also wear flats or heels.

A dark suit:

Flaunt a dark suit and pair yourself with shoes or heels. You can wear this dress with a high bun or ponytail for finishing touches. 
Styling Cute Outfits by Season
A.
Spring:
Embracing Light and Airy Fashion
Go for a floral maxi dress, denim skirt & blouse, linen jumpsuit, cropped wide-leg pants & off-shoulder top, flowy mid skirt & knotted blouse, pastel jumpsuit, and white jeans & ruffled top.
B.
Summer:
Staying Cool and Stylish
Sundress, shorts & a tank top, boho chic, and beach outfits are some of the coolest summer outfits. 
C.
Fall:
Transitioning with Layers and Warmth
Sweater dresses, jeans & a flannel shirt, leggings & a tunic top, A-line skirt & boots, denim jackets & sneakers are some of the stylish and cute fall outfits. 
D.
Winter:
Chic and Cozy Outfit Ideas
Some of the cute winter outfits include a cardigan with a turtleneck and leggings and fleece-lined leggings with a hoodie and sneakers.
Styling Cute Outfits for Different Body Types
A. Dressing for Hourglass Figures
Fit-and-flare dresses:

Dresses with a fit and flare are a fantastic alternative for hourglass shapes. The design of these dresses is stunning since they contour your curves and flare out toward the bottom.

High-waisted pants:

High-waisted pants are a flattering option for hourglass figures because they create the illusion of longer legs and a smaller waist.

Peplum tops:

Peplum tops are a fun and flirty way to show off your curves.
B. Flattering Outfits for Pear-Shaped Bodies
Tops with details at the shoulders or bust:

Tops with details at the shoulders or bust, such as ruffles, frills, or prints, can help to draw attention away from the hips and towards the upper body.

Belts:

Belts can be worn to define the waist and give the figure a more aesthetically pleasing shape. To enhance your adorable outfits, pair them with dresses, skirts, or jeans.

High-waisted pants with a flowy top:

High-waisted pants are a great way to create the illusion of a longer torso and slimmer waist. 
C. Styling Tips for Apple-Shaped Figures
Avoid wearing anything too tight or too loose. Too-tight clothing will accentuate your stomach, while too-loose clothing will make you look frumpy.

Embellishments and patterns can be a great way to draw attention away from your stomach and towards your upper body. You can do this by wearing tops with ruffles, details, or prints, or by wearing bottoms with patterns.

Accessorize! The ideal accessories can help you finish your look and highlight your best qualities. Statement bracelets, earrings, or necklaces can help you achieve this.
Cute Outfits on a Budget
A. Thrift Shopping Tips and Tricks
Check out various thrift stores in your area, as each store may have its unique selection and pricing. Some thrift stores may specialize in certain types of clothing or have specific sale days, so it's worth exploring different options.
Sizes can vary across different brands and eras, so it's important to try on the clothing items you're interested in. By doing this, you can assure a good fit and prevent buying things that won't suit you.
Thrift shopping allows you to discover a wide range of styles and eras. Experiment with mixing vintage pieces with modern items to create your unique look.
B. Budget-Friendly Online Stores
Amazon, Zappos, and Wish are some of the budget-friendly online stores out there worth exploring to purchase cute outfits. 
C. Mixing High and Low-End Pieces
Look for sales and discounts. Throughout the year, a lot of high-end retailers have deals and discounts. If you are willing to wait for a sale, you may frequently discover designer goods for very low prices.

Make a statement with your accessories. Statement pieces are a fantastic way to give your ensemble flair and style. They can be anything from a brightly colored scarf to a bold necklace.

Shop at thrift stores and consignment shops. You can frequently find designer clothing, accessories, and footwear for much less than you would pay at a department store.
Styling Cute Outfits for Girls Different Age Groups
A. Cute Outfits for Teens and Young Adults
Sweatshirt, cargo pants, and sneakers:

This is a comfortable and stylish outfit that is perfect for running errands or hanging out with friends.

Cargo maxi skirt, crewneck top, and sneakers:

This outfit is perfect for a casual day out. The cargo maxi skirt is a fun and flirty look, and the crewneck top and sneakers keep things comfortable.

Onesie romper:

This is a cute and comfortable outfit that is perfect for lounging around the house or running errands.
B. Fashion Tips for Women in Their 30s and 40s
Don't be afraid to experiment with trends. It doesn't imply you can't enjoy fashion because you're in your 30s or 40s. Try out new trends, like culottes, off-the-shoulder tops, or statement earrings.

Find your own style. What kind of attire exudes confidence and makes you feel beautiful? 

Being aware of your own style will help you create a look that matches your individual style.

A good rule of thumb is to invest in a few key pieces, like a well-tailored blazer, a classic white button-down shirt, and a pair of black pants. 
C. Embracing Cute Outfits For Women Fashion at Any Age
Don't be afraid to show your personality through your clothes. Don't be afraid to wear what you enjoy because your clothing is a method to express yourself. If you love bright colors, wear them! 
If you love prints, wear them! The most crucial factor is to feel comfortable in your clothing. Try out new trends, like culottes, off-the-shoulder tops, or statement earrings. 
Nevertheless, you don't have to follow every trend. Just find a few trends that you love and that flatter your body type.
Dos and Don'ts of Cute Outfits Styling
A. Common Fashion Mistakes to Avoid
While experimenting with new trends is enjoyable, it's best to refrain from combining too many of them at once. This may make your clothing appear cluttered and overpowering. 

Every woman has a unique body type, therefore what suits one lady might not suit another. Choosing items that highlight your best features and give you a confident appearance is essential.

Too tight or too-loose clothing might make you look uneasy and unattractive. It is important to find clothing that fits correctly and makes you feel comfortable.
B. Embracing Individuality and Breaking Cute Outfits Fashion Rules
Don't follow the rules:

Fashion rules are meant to be broken. If you find something you like, don't worry if it's "in style." 

Find your style:

Everyone has their unique style. Spend some time identifying what makes you confident and what is yours. When you are aware of your personal style, you may start organizing your clothes accordingly.

Have fun with fashion!

Fashion should be fun, so don't take it too seriously. Experiment, have fun, and express yourself!
Conclusions
In conclusion, we have explored various aspects of styling cute outfits and how to enhance them through different elements such as clothing, hairstyles, and nail art.
Throughout our discussion, we have emphasized the importance of embracing one's unique body shape and selecting clothes that flatter our figures. Furthermore, we have seen how the right hairstyle can elevate our overall look and add a touch of charm and sophistication.
Don't forget that fashion isn't just about following trends; it's about embracing our individuality and being honest with ourselves.