Introduction
Brookfield Place, a renowned architectural masterpiece, stands proudly as a symbol of elegance, sophistication, and modernity in the heart of bustling cities worldwide. Moreover, with its striking design, cutting-edge facilities, and vibrant atmosphere, this place offers an unparalleled experience that seamlessly blends business, culture, and leisure.
Nestled amidst the towering skyscrapers, it also serves as a hub for commerce and innovation, attracting leading businesses, influential organizations, and visionary entrepreneurs. Additionally, its prime location in major urban centers positions it as a dynamic destination where ideas converge, collaborations flourish, and success thrive.
Beyond its stature as a thriving business hub, Brookfield Place is an architectural gem that captivates visitors with its stunning aesthetics and meticulous attention to detail. The soaring glass walls, sleek lines, and contemporary structures create a visually captivating environment that inspires creativity and sparks the imagination.
By the way, in this blog, we will explore all about this financial center. So, Without any further ado, let's get ready to immerse ourselves and uncover the hidden gems of World Financial Center. 
What is Brookfield Place, and where is it located?
It is a office building complex and a retail complex in New York City. Not only in New York City, But it is located in various cities worldwide, including Toronto, Perth, and Dubai.
As of now, Brookfield Properties, a subsidiary of Brookfield Asset Management, owns and manages it.
It is a architectural masterpiece integrating office spaces, retail areas, dining options, cultural venues, and a breathtaking water view.
Lower Manhattans Financial District is home to Brookfield Place, located off the Hudson River. Its address is 250 Vesey Street, New York, NY 10281.
The complex is strategically positioned near other prominent landmarks such as One World Trade Center, Battery Park, and the historic South Street Seaport.
While each World Trade Center shares the common thread of a vibrant cultural mix, dedicated to offering exceptional experiences, the specific offerings and attractions within each complex may vary.
What types of businesses and amenities can be found at Brookfield Place?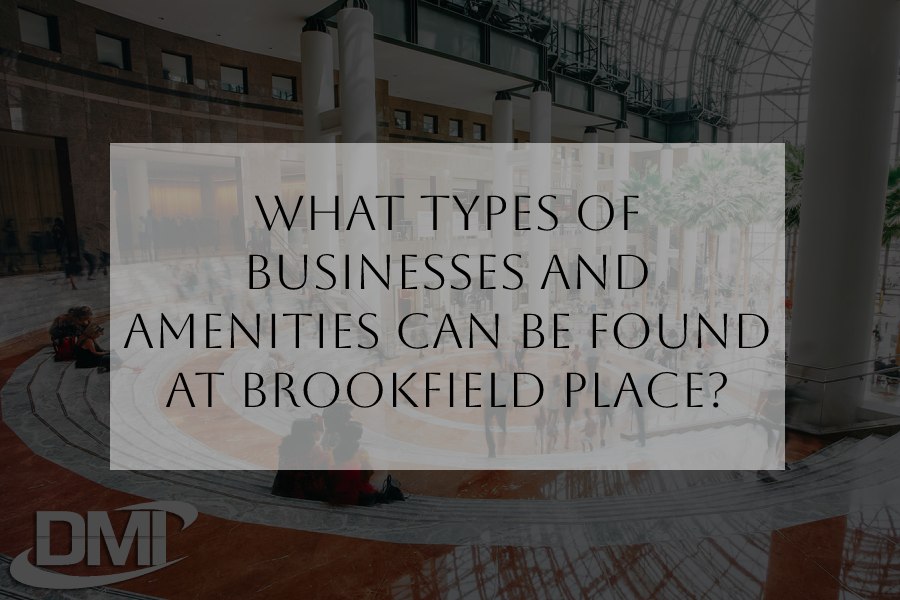 It is home to a diverse range of businesses and amenities that cater to various needs and interests. 
Since this place is primarily a property brand, it should complement the experiential real estate destinations and house some of the facilities needed to attract residents, tenants, local & visiting customers, and other promotional as well as collaborative brand relationships.
It has became the most iconic shopping destination of Lower Manhattan while bringing together the New Yorkers, and visitors from all over the globe. 
Furthermore, it is home to luxury dining, retail, world-class amenities, and extensive public spaces. Here, you can enjoy cultural experiences, modern space, or world-class shopping.
You can inquire about properties available for renting, or leasing at Brookfield Place through www.brookfieldproperties.com Office spaces, retail stores, restaurants, cafes, financial institutions, fitness centers, event spaces, art & culture, luxury hotels, and green spaces can be exclusively found here.
How has Brookfield Place evolved over time, and what are some of its key popular historical events? 
It was built between 1982 and 1988 and originally called the World Financial Center. The development of this world trade center began in the late 1980s in Lower Manhattan, New York City.
It was designed by Cesar Pelli as a hub for finance, commerce, and culture. However, its construction began in 1985, and the place officially opened in 1988.
Initially, It consisted of four towers named North, South, East, and West, interconnected by a central Winter Garden Atrium. It quickly became an iconic symbol of the Financial District, housing numerous financial firms, including Merrill Lynch and American Express.
In 2001, on September 11 terrorist attacks caused significant damage to the complex, particularly to Tower Two (South Tower), which collapsed due to its proximity to the World Trade Center. Extensive renovations and rebuilding efforts were undertaken in the aftermath.
In 2014, the complex underwent a rebranding and was officially renamed "Brookfield Place". This rebranding aimed to enhance its appeal, attract a broader range of tenants, and revitalize the overall experience for visitors.
The success led to the development of similar projects in other cities around the world. Notable international locations include Toronto (Canada), Perth ( Australia), and Dubai (United Arab Emirates). 
What is the architecture and design of Brookfield Place, and what makes it unique?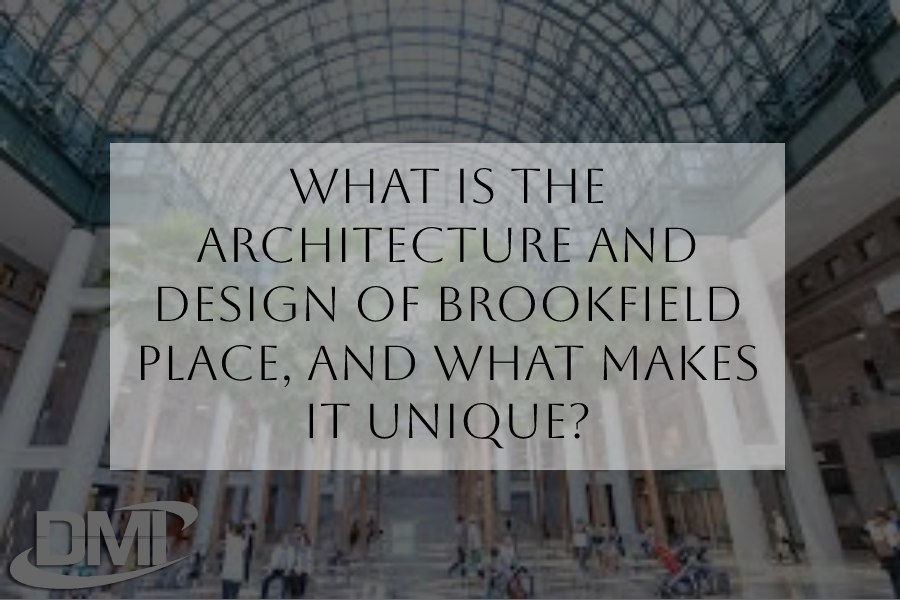 Its architectural marvel seamlessly combines modern design with classic elements, creating a truly unique and iconic structure. Its architecture further showcases a harmonious blend of glass, steel, and stone, capturing the essence of contemporary sophistication.
The exterior features a striking facade, adorned with floor-to-ceiling windows that flood the interior with natural light, creating an open and inviting atmosphere. The sleek lines and clean geometry of the building exude a sense of modernity while paying homage to the surrounding historical landmarks.
As also mentioned earlier, the Winter Garden Atrium is one of the standout features of Brookfield Place. The Atrium's vast glass ceiling allows ample sunlight to filter through, creating a serene ambiance and offering breathtaking views of the surrounding skyline.
They truly stands out for its commitment to art and culture. The complex hosts a vibrant art program, showcasing both permanent and rotating exhibits. Visitors can admire captivating sculptures, paintings, and installations by renowned artists, adding an artistic touch to the overall experience.
How does Brookfield Place contribute to the local community, and what are some of its community outreach initiatives?
We've listed some ways in which it is contributing to the local community. Check this page if you want to go in-depth on how a real estate company managing the place is organizing particular events and activities while adding up the whole life of the area.
#1. Community Events & Programming
Brookfield Place organizes a variety of community events, ranging from art exhibitions and performances to cultural festivals and holiday celebrations. 
#2. Public Spaces & Amenities
The complexes often feature public plazas, outdoor seating areas, and green spaces that are open to the public. These areas provide residents, workers, and visitors with welcoming spaces to relax, socialize, and enjoy outdoor activities.
#3. Cultural & Artistic Support
The place frequently collaborates with local artists, performers, and cultural organizations to showcase their talent and promote artistic expression. 
#4. Charitable Partnerships
Brookfield Place often partner with local charitable organizations and nonprofit entities which may involve fundraising events, awareness campaigns, volunteer programs, and donations to social welfare organizations.
Over 500 community events were hosted in 2019 alone to serve the community outreach purpose. Brookfield Properties have managed to offer educational donations and support to Countee Cullen Elementary School. 
Next on the list, they held the Howard County Public School Art Exhibit for the 47th year in a row. It featured more than 3000 art works from Howard County public schools. All in all, most of such events were organized in a row in 2019 which you can check on their official website as also stated above.
How does Brookfield Place support sustainability and environmentally friendly practices?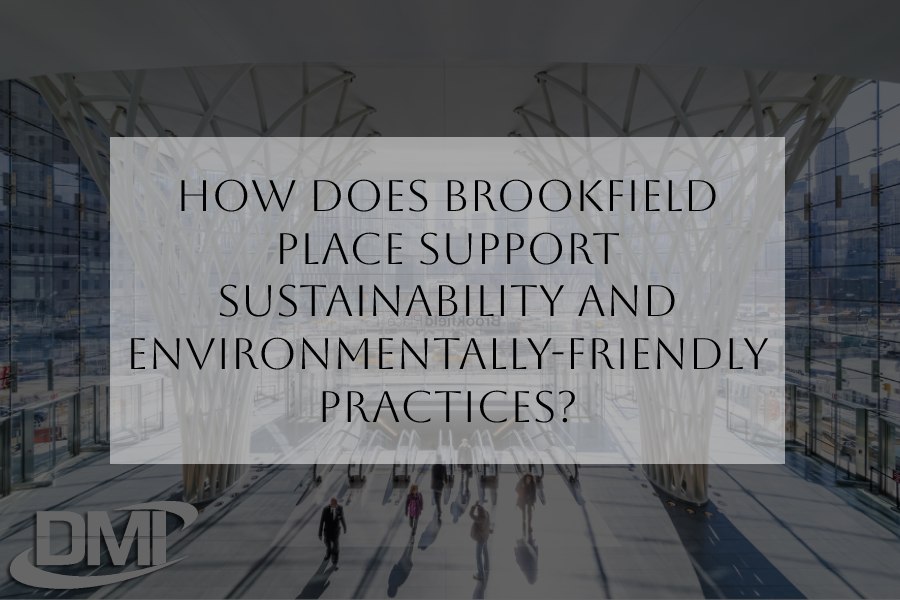 Yes, its places an emphasis on sustainability and environmental responsibility. The complexes implement green building practices, energy-efficient technologies, and waste management strategies to minimize their environmental impact and promote sustainable development within the community.
Brookfield Properties has made a positive contribution during COVID-19 with the theme 'Cause for Caring.' They strived hard in empowering their team members with a focus on helping the ones most impacted by COVID-19. 
The company has further managed to match all donations 2:1 during this era. They have reached 400+ charities, and donated over $3.8M globally. It's a worth noting case study that you can find in detail here. 
Brookfield further follows an ESG strategy that is based on supporting business resilience and creating value for stakeholders and investors now, and in the future. 
The ESG principles they follow mitigate the environmental impact of their operations. They follow the highest ethical standards and governance practices to maintain strong relationships.
Brookfield has also committed to achieving net-zero greenhouse gas emissions by 2050. They engage with leading sustainability frameworks and organizations in order to advance their ESG efforts.
You can check more about the corporate social responsibility section of Brookfield here.
What are some of the benefits of living or working in close proximity to Brookfield Place?
Being an all-rounder space, you will get a ton of benefits by living in its close proximity. The space is strategically designed to contribute maximum towards the health and wellness of people living there. It's also because the physical and social environment is the major determining factor of an individual. 
Being near Brookfield Place provides convenient access to a variety of amenities Whether it's shopping for daily needs, grabbing a quick bite to eat, or enjoying leisure activities, having these options within walking distance saves your overall time and effort.
With an array of dining options, living or working near this place means having a variety of culinary experiences at your doorstep. Whether you're looking for casual fare or upscale dining, there is something for every taste and occasion.
The place further hosts cultural events, exhibitions, and performances. Proximity to these venues allows for easy access to art, music, and other cultural experiences while enriching personal and professional lives.
The reputation and stature of Brookfield Place can positively impact perceptions and enhance the overall image of individuals and organizations. Such benefits make this area an appealing proposition, enhancing convenience, lifestyle, community engagement, and professional opportunities.
Top reasons why Brookfield Place should be on your must-visit list?
Their boasts stunning architecture that combines modern design with historic elements. There are many high-end fashion brands, luxury boutiques, and specialty stores within the complex, providing a premium shopping experience.
From art installations and live music to film screenings and seasonal festivals, there's always something exciting happening that appeals to diverse interests.
They offers breathtaking views of the harbor and the iconic skyline from its waterfront location. It offers a state-of-the-art fitness center and wellness center for those who are health-conscious.
To further add an air of significance and history to the area, it is located in the heart of the financial district (once known as the World Financial Center Complex). One World Trade Center and the Wall Street Bull surround it.
What are some of the unique and high-end shopping experiences that can be found at Brookfield Place?
If you've planned to visit this place, make sure not to miss the Winter Garden Atrium which is the main attraction. The mall also hosts shows and events.
Moreover, it's a uniquely built mall with a nice and bright architectural structure. You can even explore the buildings of the World Trade Center and the foundations of the 9/11 Memorial on its first floor. 
There is a large terrace outside of this mall which is serving as a small port for boat cruises. You will find this terrace towards the North Cove Yacht Harbor. In addition to this, this place hosts various music festivals.
Some other nearest tourist attractions to world trade center include Eleven Tears Memorial and One World Observatory. 
How does Brookfield Place offer a one-of-a-kind dining experience for foodies?
It features a wide range of high-end fashion brands, luxury boutiques, and specialty shops. Additionally, you can indulge in a diverse culinary scene with an array of restaurants, cafes, and gourmet food options. 
Make sure you visit Hudson Eats to enjoy culinary diversity! Foodies can explore a variety of flavors here, from American classics to global delicacies, all under one roof. 
Whether you're craving sushi, tacos, burgers, salads, or artisanal desserts, you'll always find something to satisfy your palette. Moreover, you can discover handcrafted sandwiches, artisanal cheeses, freshly baked pastries, specialty coffees, and more to elevate your dining experience.
Conclusions
So, let's wrap up what we've learned about the Brookfield Place 2023 guide! We've covered everything from the history of the place to its supporting environment-friendly practices. It's a place full of social exposure, and captivating architecture that should be on your must-visit list of destinations.
More Blogs From Daily Media Insight